Popular mentors and travel industry figures, Fiona Dalton and Trish Shepherd are raising funds for TIME.
The pair plan to abstain from alcoholic libations for 90 days.
"The TIME network is a close-knit one, and we're thrilled Fiona and Trish have chosen TIME as the recipient of their fundraising efforts", says Penny Spencer – founder of the TIME program.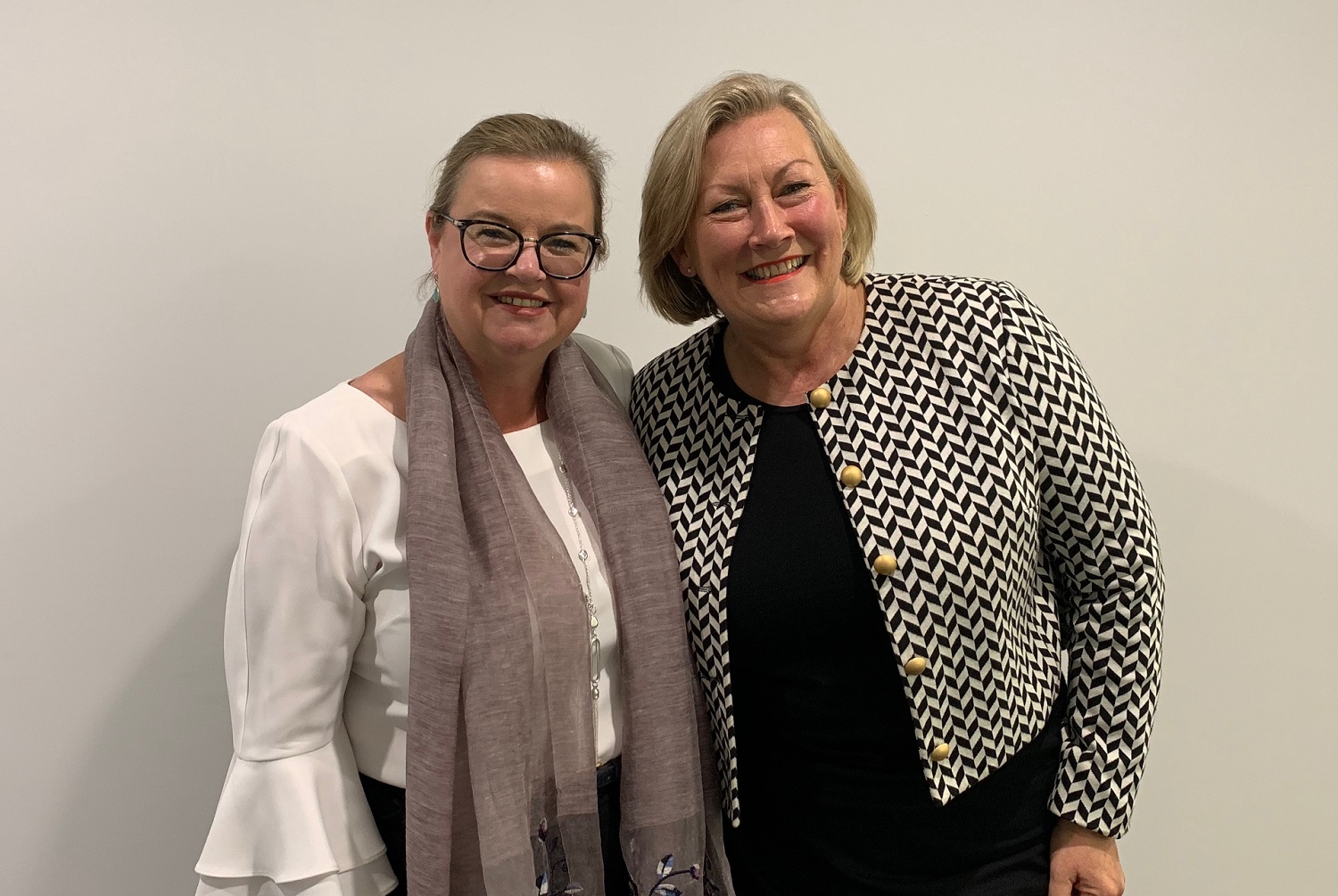 Image: Fiona Dalton – Managing Director at Uniworld Boutique River Cruise Collection, and Trish Shepherd – TIME Mentor and former Senior Vice President at Ensemble Travel Group.
Fiona and Trish's abstinence from alcohol will be followed closely by Martin Cowley and Steve Mackenzie, Chairman and CEO respectively of TIME sponsor, The Lido Group, who undertook a similar activity last year. The pair from Lido set a goal of raising $3000, but exceeded that mark by some measure, ultimately reaching $3700.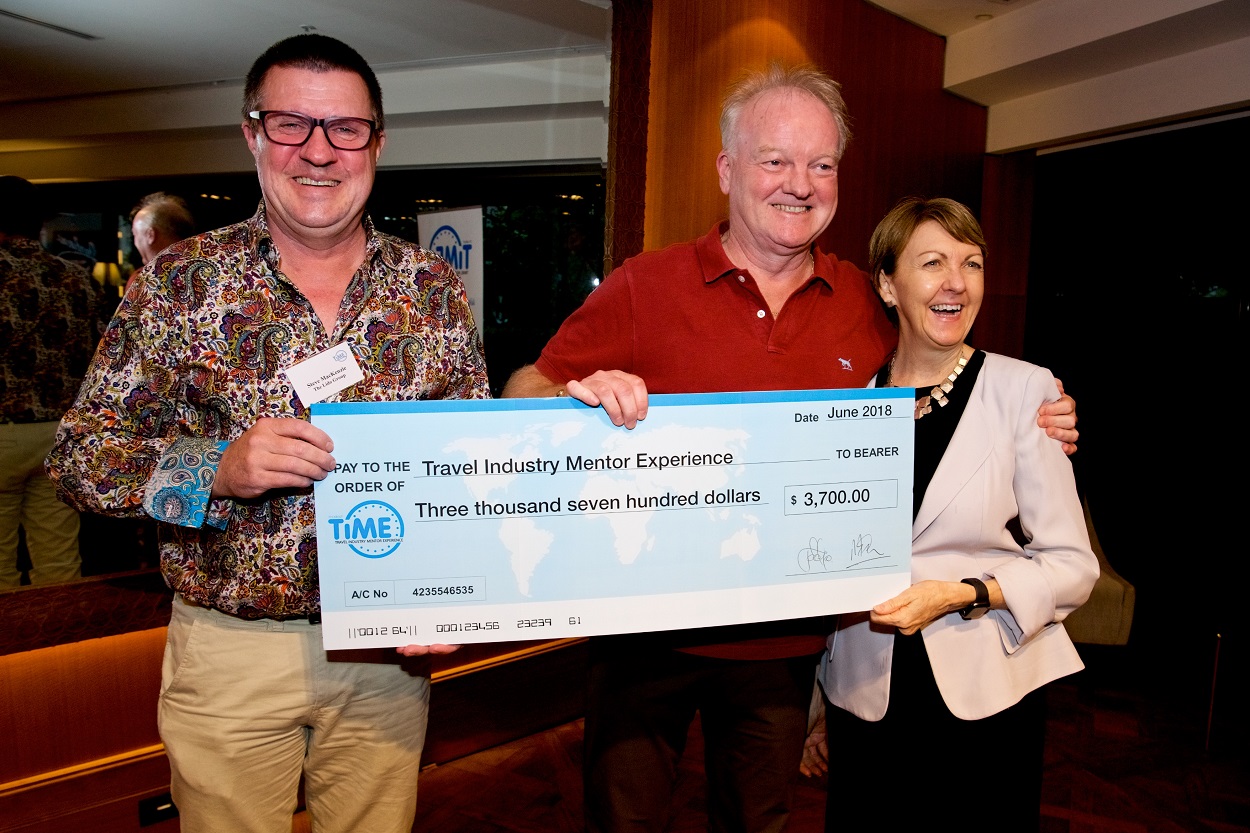 Image: Steve Mackenzie and Martin Cowley with Sue Graham and substantial funds raised.
"It was an incredibly generous thing to do, and highlights their commitment to what TIME does for our industry", adds Penny.
Fiona and Trish plan to see the Lido team's $3700, and raise it to a neat five-grand. Both passionate advocates for making pathways to the ranks of travel industry leadership more inclusive, funds raised by Fiona and Trish will open doors to the program for people who wouldn't otherwise be able to participate.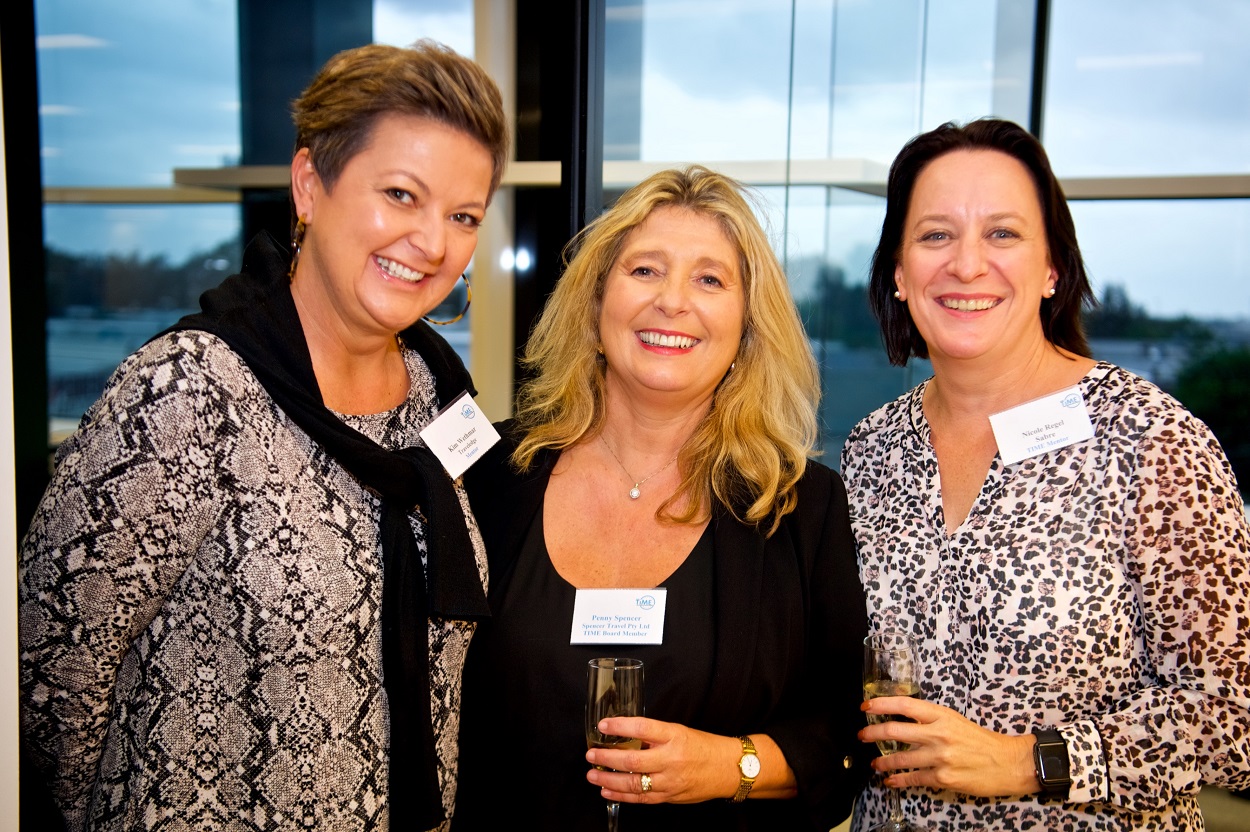 Image: Penny Spencer (centre) with Kim Wethmar and Nicole Regel at a 2019 TIME event.
As Trish points out, "Many TIME participants are sponsored through the program by larger organisations that employ them. But Fiona and I meet many aspiring professionals from small travel and tourism businesses that aren't in a position to cover their TIME participation fees, nor can they themselves."
Five-thousand dollars will go a long way, covering the full participation for two participants, or partial fees for many more.
"We are committed to giving more travel industry leaders of the future access to the career acceleration that TIME's renowned mentoring program brings. By donating, our friends and colleagues can give back to the industry that has given us all so much", says Fiona.
Just a few days in, Fiona and Trish are off to a great start with donations ticking over, but there's a long way to go to.
Supporting their cause couldn't be easier, simply click through to their MyCause page and follow the links.
"What many don't realise is that, even though our program is a serious business, the TIME network has a lot of fun. Our events are enviable gatherings of the industry's best-connected people. We support each other, make introductions and celebrate success. And we certainly look forward to celebrating with Trish and Fiona at the end of August", says Penny.